I submitted this starter and the following two recipes to the 2011 ZEITmagazin cooking competition. The topic of the call was to create a meatless menu, though not strictly vegetarian, because fish was still allowed. While thinking about what to submit, I had the idea to tighten the limitations and create each dish using only one single color. There are plenty of ingredients available during spring and summer, so I thought, it's a realistic and solvable task. The dish below was the starter for the competition, consisting only green ingredients.
Especially during spring the local market is full of green vegetables, so it wasn't a too hard task to assemble some into a green dish. Though, I tried to avoid any kind of added green color like spinach mat that didn't originate from the ingredients. One surprising component were the ramson buds. I was never really aware of their existence, so when I noticed them during cleaning the leaves, I immediately decided to sauté them along with the snap peas.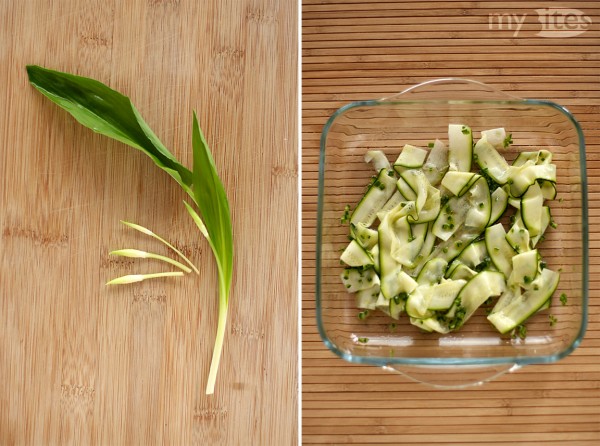 The final dish can be divided in three layers: the lower layer is snappy, the middle one creamy and the top airy. I didn't want to spoil the plate with a sauce, so the ramson foam had the role of saucing the ravioli. Due to the various textures and ingredients, each piece tastes slightly different and the plate remains interesting till the last bite. I did some shots of the plating procedure too where you can see each layer separately.
[amd-zlrecipe-recipe:1]