Oven baked whole trout or char is one of my favorite dinners. It is simple, fast, delicious and infinitely versatile. Usually, the fish can bought already cleaned and it doesn't have to filleted. It can be stuffed and flavored with almost any kind of herb, spices or citrus fruits. Also the vegetables can be adjusted according to what you have at home and what vegetables are currently in season. For example, during autumn I prefer to use various mushrooms or fennel and apples. In winter, broccoli with white wine and garlic is great, and also this current combination of butternut squash and Brussels sprouts.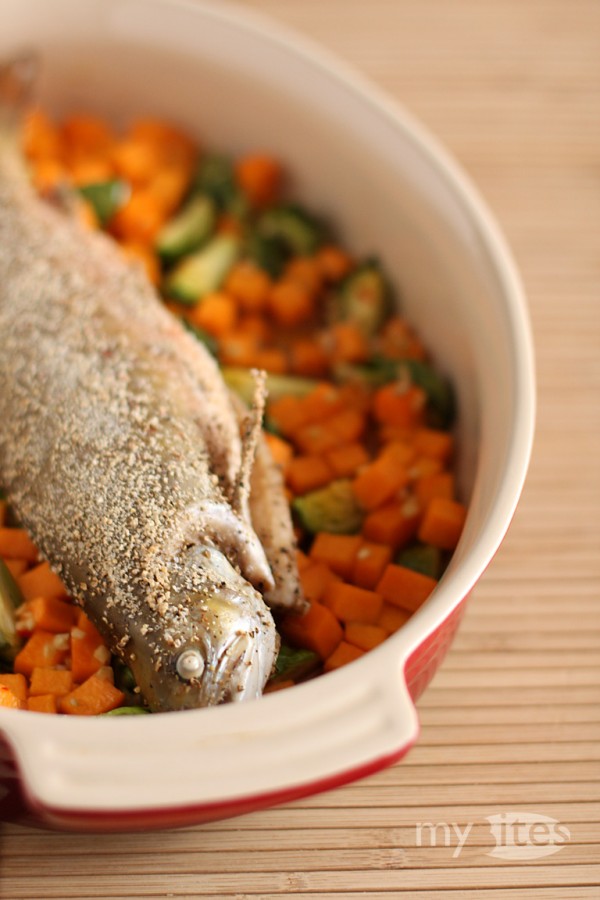 The rule of thumb for baking fish is simple. Starting with fish that was previously removed from the refrigerator and has room temperature before baking, the fish needs about 1/16 minutes per gram at 200°C / 390 F. That means you take the weight of the fish in grams and quarter it once, and quarter it twice. A 400g char takes about 25 minutes, a 500g trout needs 30 minutes. The skin is not going to be crisp, but the fish meat will be moist and tender, just perfect.
Depending on the vegetable used, it might need previous blanching or some time separately in the oven. In this dish, precooking depends on the size of the Brussels sprouts and the squash cubes. I also experienced different cooking times for different squash, so to make sure that the squash will be soft at the same time when the fish gets tender, bake the vegetables separately for about 10 minutes. I flavored the squash and the sprouts with a kind of Asian / Chinese mixture consisting of a lot of fresh ginger, chili pepper, garlic, soy sauce and roasted sesame oil. I created this flavoring based on inspirations from my recent trip to Beijing. It worked well both with the squash and with the Brussels sprouts, while the latter was no surprise since the Chinese use a lot of cabbage with similar flavorings.
[amd-zlrecipe-recipe:21]