Thinking about vegan desserts it was surprising to me how much our usual desserts rely on animal products. Many – if not most – recipes contain either eggs, gelatin, butter, milk, cream or honey. Sometimes not even fruit sorbets are pure because adding some egg white or mascarpone makes their texture less crystalline. On the other hand, many animal products can be substituted: Instead of milk or cream you can create nutritious milk from rice or nuts. In many cases, butter can be substituted by flavorful vegetable oils. Honey too can be replaced by various natural sweeteners such as sugar beet molasses, agave or rice syrup. I believe that all these great plant-based products should not be treated as substitutions only, but rather as full-valued products. If we would stop thinking of them as substitutions and rather see them as full-valued ingredients, many new and creative desserts could be created.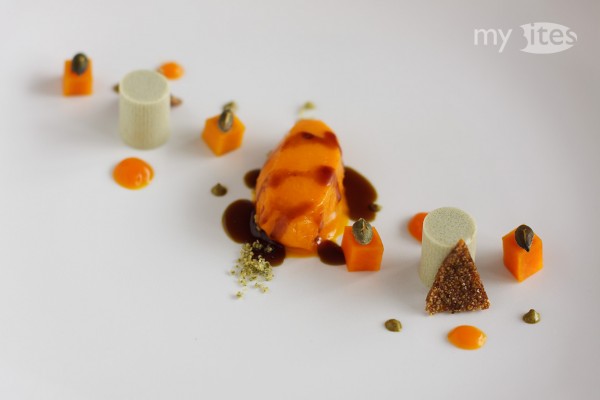 I created this dessert as the final course for a Hungarian food blogger contest organized by a friend. I used only one single ingredient, because butternut squash is extremely versatile – and can be used even in a sweet dessert. I marinated one part of the squash in an Asian flavored syrup with lemongrass, kumquat and fresh ginger. Instead of sugar I used rice syrup, which further enhanced the Asian effect. From another part of the squash I cooked a smooth puree and sweetened it with maple syrup. I baked the remaining squash with cinnamon, pureed it and served it as a refreshing sorbet.
Pumpkin seeds are very versatile too. I used some pumpkin seed oil as sauce on the sorbet and a pumpkin seed paste which I like to call "nougat" because it totally reminds me of it. I roasted some of the pumpkin seeds until they puffed. From the rest I prepared pumpkin seed milk, which I jellied using agar-agar. I dried the remaining pumpkin seed solids and used it both as a powder and also as a caramel brittle. This is also a great way to use the residual almond pulp after preparing fresh almond milk. Though, it is important to thoroughly dry the powder, otherwise the brittle will not harden.
[amd-zlrecipe-recipe:30]