Ratatouille consists of a well-known pairing of zucchini, eggplant, tomatoes, bell peppers, onions and herbs. All these ingredients reach their peak in August and each one of them resembles the pure taste of summer. Unfortunately when prepared as a ratatouille, the classic vegetables lose both their vivid color spectrum as well as their distinct textures. For this dish I wanted each and every ingredient to stand for its own with it's unique taste, color and texture. Of course in the final result the flavors didn't melt together as in a classic ratatouille. But served in this decomposed way, many different combinations of the vegetables can be discovered and enjoyed.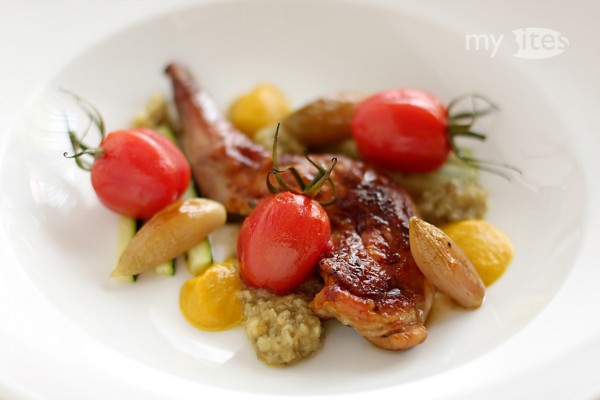 The main element on the plate was a roasted front leg of hare. I like to roast hare or rabbit in a white wine and herb sauce, which I pour over the legs every 15 minutes during baking so they get a nice glaze. I cooked the small shallots along with the legs. The result was a kind of shallot confit with lots of flavor sucked up by the shallots from the sauce. Because I served the bell pepper as a bright yellow coulis, I didn't want to puree the baked eggplant. Instead I cut it into very fine small pieces, which are sometimes referred to as caviar in cookbooks (though I don't really see the connection).
For the zucchini I like to use a preparation technique I came across a few years ago. Zucchini usually tastes bland, but works perfectly with herbs. So when zucchini is sautéd in a pan, usually it's done with some fresh herbs. Instead of having the herbs next to the vegetables, I like to put the herbs right between the pan and the zucchini and press the zucchini to the pan with a flat lid. This way the zucchini absorbs the flavors of the herbs within seconds. The final garnish on the plate were some cherry tomatoes, which I prepared as a confit. When cut, the hot tomato juice mixed with the sauce from the hare legs and created a wonderful fresh summerly flavor.
[amd-zlrecipe-recipe:67]