Kale is definitely one of my favorite ingredients this winter. I usually buy one large or two smaller plants on Saturdays at the market and cook them quite often Asian style once or twice a weak. Because a kale plant is huge, it's impossible to keep it in the refrigerator. Fortunately, in winter I can store it in a bag on my balcony, because cold and frosty nights are no problem for kale. Actually, temperatures below 0°C makes kale taste less bitter and more sweet. That is also a reason why it is such a great winter vegetable.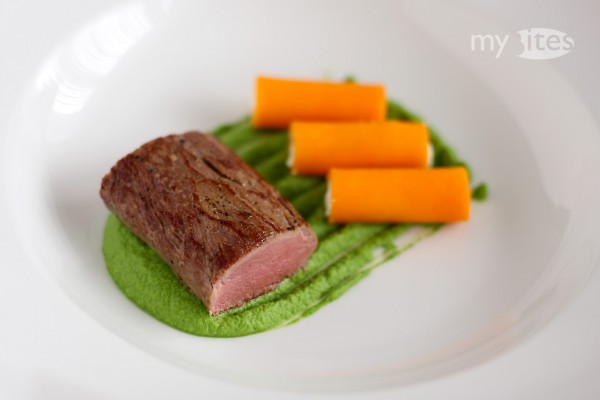 The idea for this macadamia-based kale puree originates from a cookery course I participated at in January last year. Andree Köthe, chef of the 2 Michelin starred restaurant Essigbrätlein in Nuremberg, and chef of the year 2012 in Germany by the Gault Millau restaurant guide, gave a very inspiring course on the use of spices and presented several different winter vegetables in small dishes. Instead of cooking and blending kale leaves into a puree, he prepared a base from cooked macadamia, pureed it to a very smooth cream and added the freshly extracted juice of the kale leaves afterwards. Possibly, he used better kitchen equipments, such as a Pacojet for blending the macadamia nuts, because his puree turned out more smooth than mine. Though, my home-cooked result was ok too, since it wasn't grainy at all. Yet again I couldn't find any unsalted raw macadamia nuts in the local stores or at the market, so I bought a package of roasted salted macadamia nuts and washed off the salt under running cold water. The puree turned out great, but the unsalted and unroasted nuts had a milder flavor last year.
Originally my plan was to use lamb, but during winter my butcher sometimes also offers game meat. I spotted a beautiful saddle of venison so I switched spontaneously from lamb to game. The meat was still on its bones, so I trimmed it off and used all trimmings and bones for a rich venison sauce.
Next to the kale puree I prepared a second garnish from butternut squash filled with goat cheese. This idea came to me when I was looking for a better kitchen tool for removing apple cores and noticed back at home that the diameters of my old and new cutters differ slightly. I tried several methods for cutting cannelloni from the squash. The best technique was to first cut tubes using the larger apple core removers and then remove the inner tube with the smaller cutter. Be very careful while removing the inner tube, because the squash needs to extend slightly at the thickness of your cutters blade, so it might break.
[amd-zlrecipe-recipe:35]