Pimm's & Lemonade is probably the most famous and most popular cocktail of Britain. Its main ingredient is a liqueur called Pimm's No. 1, which recipe is unchanged – and still kept secret – since 1823, when James Pimm invented and served it as medicine for digestion problems. Pimm's No. 1 is made with gin, but several other variations exist, like No. 3, which is made with brandy, or No. 6, which is based on vodka. Pimm's & Lemonade is served in almost every English pub. According to taste it's usually prepared either with lemonade or with ginger ale. Due to its fresh ingredients – such as strawberries, mint, cucumber, lemon, lime and orange – it is a perfect summer cocktail. While I was thinking about how this combination of ingredients might have developed into the final cocktail, I also thought about transforming Pimm's & Lemonade (or to be exact in this case: Pimm's & Ginger Ale) into a plated dessert. After planning each element thoroughly, I ended up with this colorful and extremely refreshing summer dessert.
Transforming cocktails into desserts isn't so uncommon in the field of gastronomy. Last year for example I had a wonderfully refreshing Pina Colada dessert at the Onyx Restaurant in Budapest. One of my all time favorite dishes I've ever tasted in restaurants was the "Mojito" served in the Gastronomique Restaurant in Heroldsberg – which closed unfortunately a few years ago. The "Mojito" consisted of a base layer of mint granita, on top with a quenelle of warm lime and rum sabayon and garnished with a crispy candied mint leaf. I also managed to reproduce this dish at home since. The different temperatures and textures really transformed the Mojito into something very special. I also created a transformed version of mulled wine, which was based on components with similar textures, like frozen wine crystals, spiced orange sabayon and cinnamon crisp. I even challenged transforming a Bloody Mary into an interesting appetizer. So to sum up, the basic ingredients of cocktails can be very inspiring for the creation of a new dish or dessert.
For the dessert I began on the path of Pimm's & Ginger Ale, because the ginger adds a nice spicy note and a different kind of freshness to the final result. The ground layer is basically a finely diced fruit salad consisting of strawberry, lemon, orange and cucumber seeds. The latter actually absorbed the flavors of the fruit salad and added yet again a new dimension of freshness and texture to the plate. Cucumbers are sometimes paired with mint, so I candied some cucumber slices in mint syrup, rolled them to small tubes and filled the cannelloni with mint flavored whipped cream. I actually used apple mint, which is not as sharp as peppermint and added a nice fruity note too. Further elements were a halved strawberry and some mint leaves. For the strawberry sorbet I used a little bit of Pimm's, so it really resembled the cocktail when eaten with some of the fruit salad. Finally I garnished the plate with a Pimm's syrup flavored with fresh ginger, a sprig of apple mint and a few crispy bits of orange tuile. I believe, this Pimm's recreation turned out to be my most perfect dessert up to now.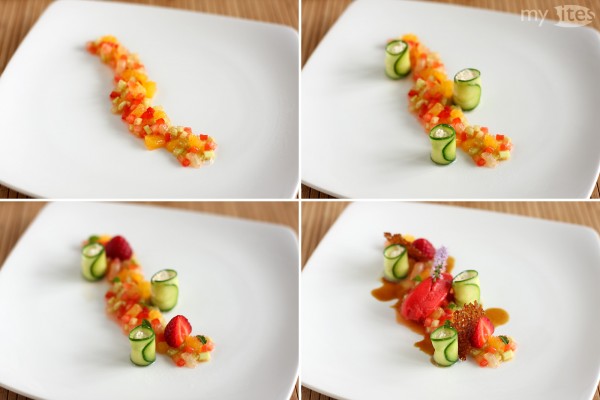 [amd-zlrecipe-recipe:57]