My blog's winter sleep turned out to be a little bit longer than expected. The reason for the silence is that first I moved partially to Frankfurt for 3 months and then after more than 10 years in Erlangen I finally moved to Germany's most colourful and versatile gastronomic city: Berlin. Looking for a new apartment, packing and moving all my stuff, saying goodbye to friends and equipping my new home with furniture devoured several weekends. In the end, everything went very well. From the cooking perspective, the most important change is that I replaced my tiny 3m² kitchen with a huge 12m² one. So finally I have the space for all my equipment right in the kitchen and don't need to hide cooking utensils under my sofa or bed. Though, the kitchen is still not ready completely since I'm working on a kitchen island, but at least it is operational. As an inauguration I prepared a fresh and simple dish – in the hope that spring might come in a few days.
While I was looking for a new flat in Berlin, one of my many small criteria was to have a nice market nearby offering local products and specialities. During my visits at the beginning of this year, I already fell in love with the market at the Boxhagener Platz. In the end, the apartment I moved in happens to be just a few minutes away from this market. Next to the many greengrocers, bakeries, flower stands, fishmongers and butchers there are also special stalls dedicated only or mostly for e.g. eggs, apples or potatoes. What really caught my attention was the fish smoker. This guy brings his smoker filled with herrings, mackerels, eels, plaices, salmon, trout and other delicious fish to the market and literally smokes the fish right in the middle of the people. You can't get any more fresh than this. The smoked herring in the recipe below comes from this fish smoker stand. Here in the northern part of Germany the herring is actually called "Bückling" if it was smoked hot. It sometimes contains the smoked roe, too.
For this recipe I used almost only locally sourced spring ingredients. Because the smoked herring tends to be slightly fatty, I created a turnip soup gently soured with buttermilk. I served it at room temperature so the buttermilk doesn't flocculate. As a counterpart to the silky soup and the soft herring I added a few small wedges of crisp radish and young turnip stems. Since both the radish and the turnip stems resembled a slight nutty tone to me, I enhanced this aroma further with a few drops of poppy seed oil and some teaspoons of hemp seeds. The dish is really refreshing and light, so it might be served in early summer as well.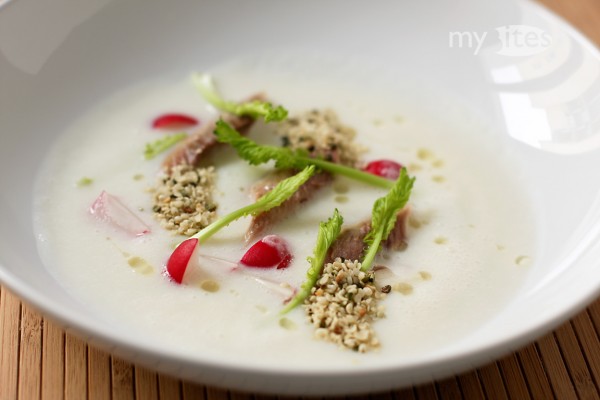 [amd-zlrecipe-recipe:72]