Browsing articles in "Dessert"
Pimm's & Lemonade is probably the most famous and most popular cocktail of Britain. Its main ingredient is a liqueur called Pimm's No. 1, which recipe is unchanged – and still kept secret – since 1823, when James Pimm invented and served it as medicine for digestion problems. Pimm's No. 1 is made with gin, but several other variations exist, like No. 3, which is made with brandy, or No. 6, which is based on vodka. Pimm's & Lemonade is served in almost every English pub. According to taste it's usually prepared either with lemonade or with ginger ale. Due to its fresh ingredients – such as strawberries, mint, cucumber, lemon, lime and orange – it is a perfect summer cocktail. While I was thinking about how this combination of ingredients might have developed into the final cocktail, I also thought about transforming Pimm's & Lemonade (or to be exact in this case: Pimm's & Ginger Ale) into a plated dessert. After planning each element thoroughly, I ended up with this colorful and extremely refreshing summer dessert.
There are plenty of different butters and purees available made purely from nuts, such as peanut butter, almond paste or hazelnut nougat. They all work great in desserts, so I thought a butter made from pumpkin seeds might work in sweets well, too. Although its taste resembles the hazelnut nougat flavor, at the same time it also has a nice pumpkin seed aroma. The consistency of the pure butter is quite thick and first it looks brown, but if you loosen it up with some water or other liquid its color turns into dirty green and the butter gets creamy again. It can be used in batters or creams to both flavor and color them. This also gave me the idea to try the pumpkin seed butter in a soufflé.
Kaiserschmarrn is prepared the traditional way usually with apple puree and a vanilla-milk batter. With some imagination it can be turned into thousands of new variations. One possibility is the Caribbean coconut Kaiserschmarrn I posted a month ago, or another example would be this current butternut squash version – which is actually lactose-free. The squash adds both flavor and color to the final result, which is also the reason for its beautiful yellow appearance. I also experimented blending the softened squash with milk, but the result was much better when I used the reduced stock cooked from the seeds and skin of the butternut squash.
Thinking about vegan desserts it was surprising to me how much our usual desserts rely on animal products. Many – if not most – recipes contain either eggs, gelatin, butter, milk, cream or honey. Sometimes not even fruit sorbets are pure because adding some egg white or mascarpone makes their texture less crystalline. On the other hand, many animal products can be substituted: Instead of milk or cream you can create nutritious milk from rice or nuts. In many cases, butter can be substituted by flavorful vegetable oils. Honey too can be replaced by various natural sweeteners such as sugar beet molasses, agave or rice syrup. I believe that all these great plant-based products should not be treated as substitutions only, but rather as full-valued products. If we would stop thinking of them as substitutions and rather see them as full-valued ingredients, many new and creative desserts could be created.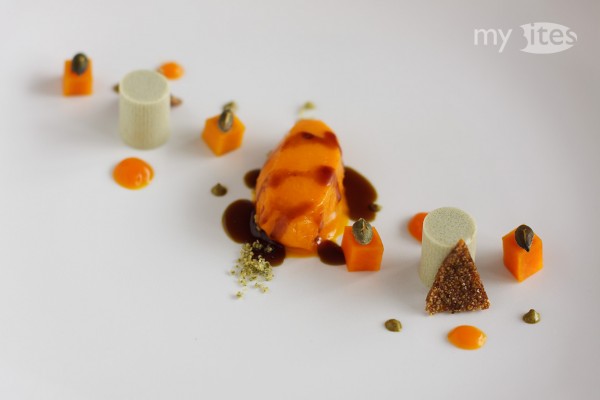 What if Austria was located in the Caribbean? Perhaps, it could be a nice tropical island. Well, obviously you wouldn't plan your ski holiday there. Apart from winter sports and from a more culinary viewpoint, Austria is most famous for its huge variety of delicious pastries. Perhaps one of the simplest and most popular desserts is the so called Kaiserschmarrn: a light and fluffy batter made with separately beaten eggs, which results in something between a soufflé and a pancake. According to the story of this dessert, it was first prepared and served for Emperor Franz Joseph I during the 19th century, who also gave the name to this dish. Now imagine the Austrian Emperor Franz Joseph I and his beloved wife Sissi sitting at the beach under a palm tree somewhere in the Caribbean. Obviously they won't be eating their Kaiserschmarrn with apple puree, but rather use tropical fruits instead, like coconut, pineapple or passion fruit. Maybe the result would look somehow like this Caribbean Coconut Kaiserschmarrn.
Next to blackberries, quince is my most favorite fruit. Although it resembles a pear or an apple, it is far too hard and sour to be eaten raw. However, if you cook quince almost indefinitely it not only turns to a lovely pink or red color, but also develops an irresistibly rich flavor. Unfortunately, the season for quince is quite short during autumn, but you can keep the jam, puree or quince jelly for several months. It pairs great with cheese, however, this time I used the quince puree in a dessert paired with another typical autumn and winter ingredient: sweet potato.