Browsing articles in "Main Course"
Usually, I take two different approaches when transforming traditional recipes. I either use all the original ingredients, but prepare and serve them in a different (to my opinion more optimal) way. Or, I keep the same presentation, but use very different ingredients. All my Kaiserschmarrn variations belong to the latter category – though they were desserts only. This time I wanted to create a savory version using goat cheese – in a way uniting Käsespätzle with Kaiserschmarrn.
In general, I try to find the corresponding counterparts for all traditional ingredients. For example, the traditional recipe calls for raisins soaked in rum. For the savory version I got inspired by the typical combination in a Bloody Mary, so I soaked sun-dried tomatoes in high-quality gin. Instead of orange or lemon zest and vanilla, I added herbs like thyme, rosemary and sage. Since my goat cheese purveyor – from whom I bought the cheese as well – offers kefir made from goat milk too, I replaced the milk from the traditional recipe by goat kefir. Usually Kaiserschmarrn is dusted generously with powdered sugar, so for the savory version I grated some aged goat cheese on the top. Finally, I poured bell pepper coulis and tarragon oil on the Kaiserschmarrn, which where the counterparts of the traditional apple puree.
Ratatouille consists of a well-known pairing of zucchini, eggplant, tomatoes, bell peppers, onions and herbs. All these ingredients reach their peak in August and each one of them resembles the pure taste of summer. Unfortunately when prepared as a ratatouille, the classic vegetables lose both their vivid color spectrum as well as their distinct textures. For this dish I wanted each and every ingredient to stand for its own with it's unique taste, color and texture. Of course in the final result the flavors didn't melt together as in a classic ratatouille. But served in this decomposed way, many different combinations of the vegetables can be discovered and enjoyed.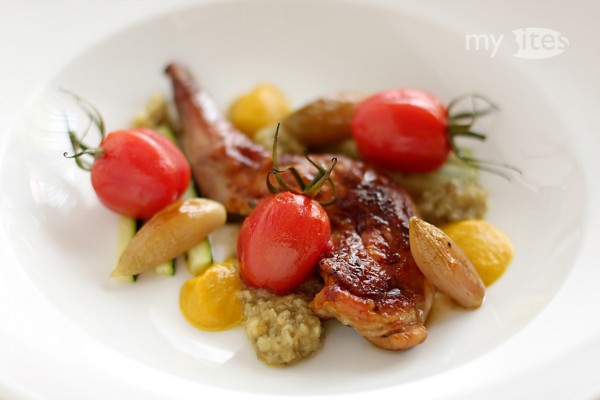 Sour cherries and poppy seeds are a traditional pairing and work really great together. Usually, you can find this combination in the form of crépes, muffins or cakes – so in most cases, they are served as dessert. Since I love to include fruits in savory dishes, I was thinking about a way of using sour cherries and poppy seeds in a more salty environment. Cherry sauce is a classic pairing for duck breasts, so I thought it might work with pigeon breasts as well. Additionally, I enhanced the plate with a few more ingredients that pair similarly well with sour cherries, which took the resulting dish into a very exciting Asian direction.
During summer the youth division on3 of the Bavarian Television (BR) is touring across Bavaria and broadcasts each week from a different city. Last week their tour bus stopped in Erlangen, the town I live in. Fortunately, the program directors decided to talk about foodblogging and invited 3 local foodbloggers from the surrounding area: Kathi (Kochfrosch), Sylvia (Rock the Kitchen) and me. It was nice to meet Kathi and Sylvia, since until recently I didn't even know that there were other foodbloggers so close nearby. We were asked some questions about foodblogging and in the second part of the show we had to prepare some "food porn" using a few provided ingredients. The show was recorded on last Wednesday and aired both on the BR-alpha and BR channels. If you missed the show: it is available online at the on3 website.
Before the live show, Kathi, Sylvia and I were asked by the tv crew to join a skype meeting, where we helped one of the shows hosts prepare and cook a menu for his guests. The whole dinner was filmed and the resulting short film screened during the live show. I had to provide a recipe for the main course, so because I knew the show would air sometime in July, I planned a refreshing summer dish. The guests seemed pretty amazed, so hopefully others might would want to prepare this dish as well. Because I started myBites in last August, the recipe for the basil-trout rolls was featured on my (long-running) Hungarian foodblog only. Since now it's exactly the right season for this dish (and due to the recently aired show on BR) I decided to share the recipe in English, too.
Baking in salt-crust is a technique usually applied to fish, meat, potatoes, beets and sometimes celery roots. In fact, a lot more vegetables can be covered in coarse sea salt and baked in the oven, where the salt-crust not only seasons the vegetable, but also keeps all the flavors inside. This time I experimented with salt-baked kohlrabi, which developed into a magnificent result.
Cauliflower is a vegetable that can be stored quite well, and therefore it is available throughout almost the whole year. Actually, the real season for cauliflower – at least in Europe – is about right now. During spring and summer fresh cauliflower can be sourced from local farmers in white, green, orange or purple colors. Usually, cauliflower is picked into florets and cooked or steamed tender, or it is sometimes prepared as a creamy soup. In this recipe I cooked the cauliflower slightly different than usual and served it with a crispy roasted trout fillet.