Browsing articles in "Soup"
My blog's winter sleep turned out to be a little bit longer than expected. The reason for the silence is that first I moved partially to Frankfurt for 3 months and then after more than 10 years in Erlangen I finally moved to Germany's most colourful and versatile gastronomic city: Berlin. Looking for a new apartment, packing and moving all my stuff, saying goodbye to friends and equipping my new home with furniture devoured several weekends. In the end, everything went very well. From the cooking perspective, the most important change is that I replaced my tiny 3m² kitchen with a huge 12m² one. So finally I have the space for all my equipment right in the kitchen and don't need to hide cooking utensils under my sofa or bed. Though, the kitchen is still not ready completely since I'm working on a kitchen island, but at least it is operational. As an inauguration I prepared a fresh and simple dish – in the hope that spring might come in a few days.
I've been longing for a fruit and vegetable juicer, but never had any free space in my flat to store it. Now that I gave up my tv – which I haven't turned on since last Easter – I bought a quite powerful juicer in its place. For the inauguration I juiced some kale leaves which I used in a previous recipe for a puree. The extracted liquid was pretty clear and the remaining shredded leaves were dry, so I was happy. Cleaning the parts is a little bit labor intensive, but it is still worth for the result. On my second attempt I extracted the juices of a red cabbage, which I used for a dark purple colored creamy soup.
When I cook rutabaga the evaporating scent always reminds me of peanuts. I've been planning to try the combination of rutabaga and peanut for a long time. Now it is rutabaga season, so I cooked a vegan soup using rutabaga and peanut butter.
Exploring how far I can take vegan food was only one of my motivations for creating a vegan menu. The other impulse originated from a documentary I came across recently. Forks over Knives takes a critical look at the western diseases from the perspective of the people's diet. The main message of the documentary is that there is a direct causal relationship between the excessive amounts of meat, dairy products, sugar and fat consumed in our western diet, and the still increasing diseases of our era such as diabetes, heart attacks, strokes and cancer. According to the doctors and researchers featured in the film, all these diseases can be avoided and even cured by a whole-foods, plant-based diet.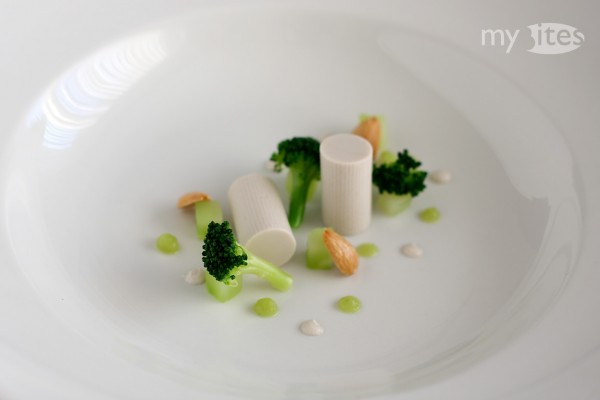 Pears, beans and bacon are a traditional German combination. This relationship might also originate from the simple fact, that the seasons of pears and beans overlap. Some additional fat or salty bacon only further improves a dish, so it can't be a mistake to include it. Traditionally, the combination of these three ingredients is cooked layered in a single pot, but there are countless other ways to prepare and serve them too. In this recipe I combined the beans, pears and bacon in a simple and light soup. Although the soup can be cooked even simpler, I included some further steps to preserve the color and optimize the texture for a perfect green bean soup.