Browsing articles in "Vegan"
What I really like about my new local market(s) is that there are not only stalls specialized in e.g. potatoes, apples or fish, but also a lot of regional organic farmers selling their excellent seasonal produce. Local organic food has several advantages. For example no manufactured fertilizers or pesticides are used for growing the plants. This requires more attention and work from the farmer, which in the end really makes a difference in taste. Since the farms are located in a 50-100km radius around Berlin, the produce is absolutely regional. The offered range of produce is both limited and rich at the same time: limited due to seasonality, and rich due to cultivating old species and a wide range of varieties.
I've encountered the oyster plant roots at one of these organic farmer's market stalls. This vegetable looks like a really hairy, dirty and thin root. Because it is so thin, I only removed the root hairs and carefully scraped the surface of the roots using a relatively dull knife. The scraped surface of the root tends to turn brown quickly, so it's advised to boil or steam the roots right after peeling them. I would not recommend this root to be served raw, since it has a slightly bitter taste. Its raw taste also reminded me of liquorice. During cooking the bitter taste evaporates, so when heated the oyster plant root tastes like a mixture of black salsify and corn. In this current dish I paired the oyster plant root with turnip, black spanish and radish.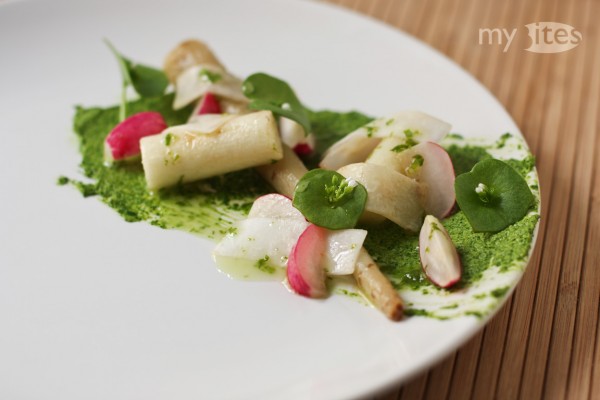 When a recipe refers to neutral oil as an ingredient, it most often takes sunflower seed or grapeseed oils as examples. Until recently, I preferred using a perfectly neutral grapeseed oil for making my green herb oils, because it never interfered at all with the herb's original flavor. A few weeks ago a friend of mine gave me a bottle of her very special grapeseed oil, which already blew my mind just after screwing off the plug when I smelled its scent. It has a very strong (and addictive) nutty scent (somewhat similar to walnut) mixed with an aged red wine perfume. The flavor of this grapeseed oil is extremely rich and combines (similarly to its scent) the aromas of red wine, grapes and nuts. Due to its quite unique flavor, I used it as an unusual "spice" in the appetizer below, featuring ingredients from the current autumn season.
Next to experimenting with new flavor pairings and techniques, thinking about classic dishes and transforming them into new and more interesting forms is my biggest passion in cooking. Sometimes I start meditating about a classic dish, its ingredients, the involved techniques and the possibilities behind them. The ideas pop up and evolve during this creative process. Some other times I keep thinking and enhancing distinct single ideas, which I quite suddenly assemble into a new dish or a reinterpretation of a classic. This time I combined several ideas and applied it to a Hungarian classic: the lecho (orignally: lecsó). Traditionally lecsó is a mix of onions, long bell peppers and onions simmered similarly to a stew and served either immediately or stored in glasses for the forthcoming winter.  Sometimes lecsó is enhanced with garlic, Hungarian sausage (kolbász), sweet paprika powder or lard. Lecsó is usually served mixed with rice or eggs, or it can be eaten simply with a few slices of bread. I prefer the version with rice and – very nontraditionally – a lot of cinnamon, which works especially well with chorizo-like sausages.
You might ask now: why to serve a lecsó in form of a sushi? Well, I figured out how to make endless variations of nori algae sheet substitutes (the sheets you wrap your sushi into), how the texture of tomatoes and peppers can resemble soft fish meat and how to replace the wasabi by another traditional Hungarian ingredient. With the combination of the ideas described below, serving a sushi with lecsó flavor surely will make sense to you as well. So read on below for the birth story of the Lechosushi.
During the last month I finally managed to finish a huge project. Some of you, who might have seen me on Hungarian or German television might already know, that for the last 5 years I was working as a research assistant at the local university here in Erlangen. Next to teaching students about the beauty of computer science, I also worked on my PhD thesis. The final oral exam took place two weeks ago, where I did pretty well and so I finally extended my name with a Dr.! Of course the exam was followed by celebrations lasting more than 3 days, which seemed to be a little bit too much: I spent the next few days in bed with a flu.
The first PhD celebration is traditionally held just after the final oral exam with my family and my fellows. Since my colleagues know that I love cooking, I had to come up with some original ideas for my menu. Unfortunately, I didn't have any time to cook on the day before my final exam, so I searched for a local catering service willing – and able – to cook the ideas I had in mind. The catering I picked did a tremendous job. Everybody loved the appetizers, main courses and desserts – which were mostly not only vegetarian, but vegan. It's funny, that unless a dish is not explicitly emphasized as vegan, people don't really seem to miss the meat from their plates. One of the appetizers was this simple, yet very tasty terrine made of bell peppers and eggplant.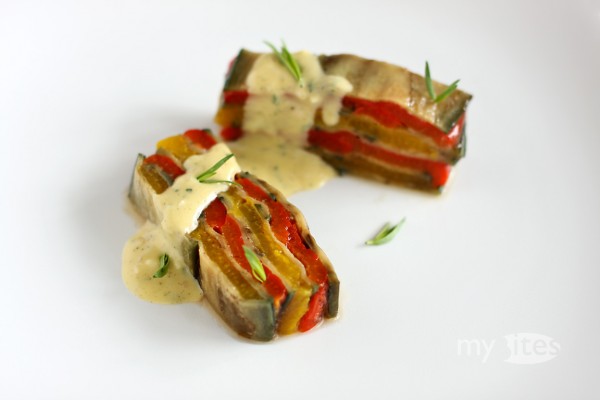 Last year in December a friend of mine, Anna called for a "vegastromania month", where  she invited everyone to cook at least one vegetarian or even vegan meal during the Christmas preparations. The main goal of this project was to make people think about vegetarian dishes and what they are eating everyday – which is usually far too much meat. The participants were allowed to submit any kind of recipe except for desserts, because they are mostly naturally vegetarian, less healthy and we already have more than enough of sweet recipes. Anna also assembled some famous Hungarian vegetarians, who picked their favorite recipe. The winner was invited to a very special vegetarian dinner at Anna's home and also recieved a voucher for an ayurvedic massage. Fortunately, I got picked by the jury, so this January I had a wonderful dinner with Anna, Ági and Noémi. One of the dishes Anna served at this dinner was Mrs. Myrtleberry's nutcake, which was quite an extraordinary and surprising experience. First, it's absolutely delicious. But its texture was even more interesting, because it tasted just like minced meat – although there was no meat in the cake at all.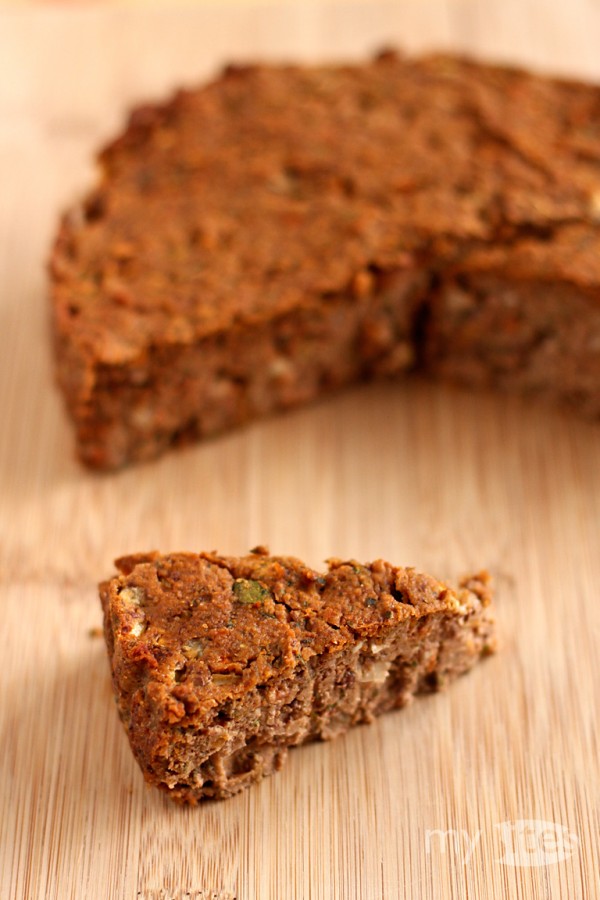 Although I was inspired by a combination I collected via Foodpairing, most pairings featured in this starter are quite well known. For example broccoli is often served with almond flakes, where the almond can be replaced by other nuts, such as hazelnut or peanut. I always use the broccoli stem as well, which reminds me of kohlrabi – so pairing broccoli and kohlrabi was straight-forward. Figs might sound a little bit strange, but I already made figs and broccoli work together previously. The dish below unites the aforementioned pairings in a vegan appetizer.