Apricots belong to a special group of fruits. While most fruits loose more or less flavor when cooked, for apricots actually some gentle heat really enhances and helps to develop their flavor. Therefore it is always wise to bake or cook apricots before any further use. Or – if there is no time – just simply toss with some brandy or schnaps and flambe. For baked apricots you can either leave the skin on (and remove easily after baking) to get a more vibrant sour and tart note. Otherwise briefly blanch the apricots in hot water and peel them. For this current recipe I removed the skin because I didn't want to have too much tartness in the end result. I baked the apricots at low temperature on a herb bed which enriched its flavor and took it in a savory direction. The original idea for the herb baked apricots itself is based on a recipe from German 3-star chef Juan Amador's cookbook. I've already prepared it several times and always tweak on the combination of herbs and the preparation. E.g. removing the skin before baking is clearly a better choice. The apricots pair really well with liver or mushrooms. In this recipe I incorporated them in a terrine, which can be used in multiple ways.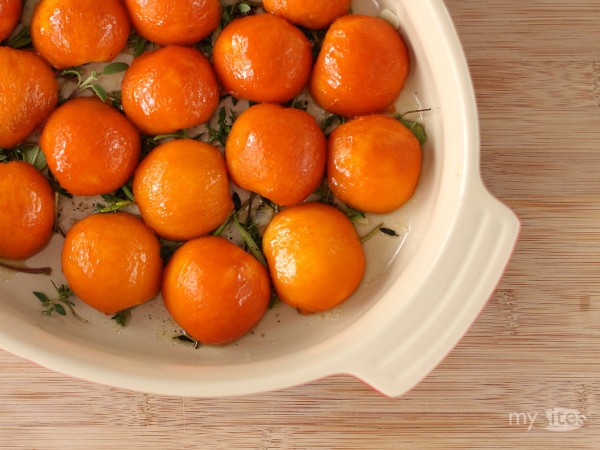 The idea for the terrine is based on a recipe from Swiss chef Tanja Grandits' cookbook. She created a tomato "cassata" made of half dried tomatoes and gelled tomato juice. I switched the half dried tomatoes to herb baked apricots and the tomato to bell pepper juice. Yes, bell peppers work great with apricots. Bell pepper is basically sweet, adding one or a half baked apricot to a bell pepper coulis or soup really enhances the fruity tones of the bell pepper and adds the missing final touch. The terrine below is another nice example for the combination of bell peppers and apricots. It can be prepared one or two days beforehand, covered in clingfilm and refrigerated it keeps several days. And, there are multiple possibilities for its use (e.g. see below for an example with mushrooms). Only two things are very important: always slice the terrine cold with a very sharp knife and before serving allow it to reach room temperature. Otherwise the flavors just can't develop.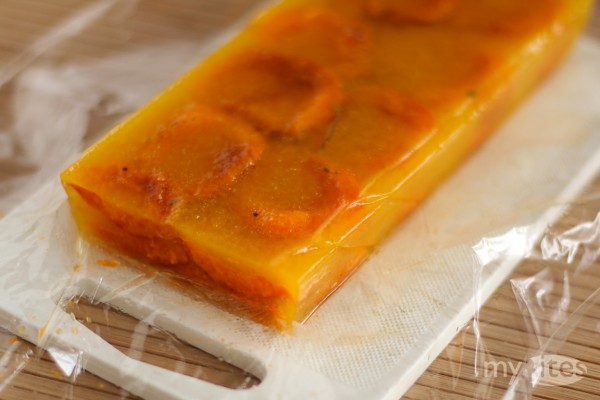 Apricot and Bell Pepper Terrine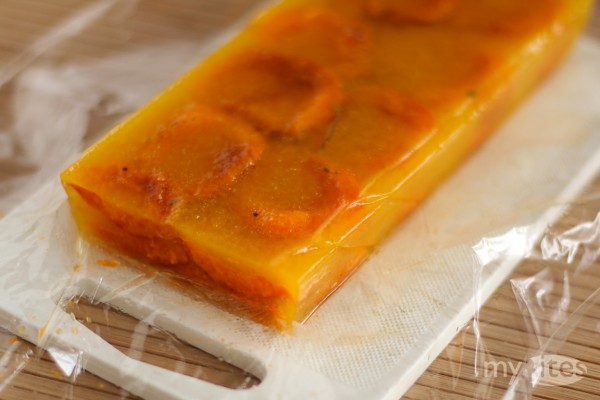 Ingredients
12 apricots
1 sprig rosemary
4-6 sprigs thyme
4-6 sprigs sage
1 garlic clove
2 yellow bell peppers
1 tsp sea salt
1 tsp sugar
10 leaves gelatine
freshly ground black pepper
mild olive oil
Instructions
For the apricots
Blanch apricots and immediately submerge in ice-water. Peel the skin and discard. Halve apricots and discard the stones. Slice 1 clove garlic very thinly. Sprinkle an ovenproof dish with mild olive oil, add the thyme, rosemary, sage, garlic slices, 1/2 tsp sugar, 1/2 tsp sea salt and freshly ground black pepper. Distribute evenly, then add apricots with their cut side down, sprinkle with some olive oil and bake in 100°C / 210F oven for 1.5 hours.
Remove from the oven and let chill to room temperature. Carefully lift the apricots from their herb bed thereby removing any herbs or garlic slices. Drain the flavorful olive oil from the dish through a colander and press out as much oil from the herbs as possible. Reserve the oil for another use (keeps really well in the freezer).
For the bell pepper juice
Wash, halve and discard seeds from the bell peppers. Coarsely chop, add to a blender and blend until you get a smooth puree. Strain through a fine sieve to remove skin parts. Measure 300ml juice and gently heat in a pan with 1/2 tsp sea salt and 1/2 tsp sugar.
For the terrine
Soak the gelatine in cold water, press out the water and add the gelatine to the warm bell pepper juice. Line a 26x8 cm / 10x3 inch terrine form with clingfilm and lay out a layer with apricot halves. Cover with bell pepper juice and add another layer of apricots. Cover with the rest of the bell pepper juice. Carefully put the terrine in the fridge and allow to get solid. This usually takes 3-4 hours.
To serve
Remove terrine from its form and clingfilm. While still cold slice 1.5 cm / 0.6 inch thick slices using a very sharp knife and place on plates. Let the terrine warm to room temperature for 10 minutes and serve with accompaniments.
http://mybites.de/2011/08/apricot-bell-pepper-terrine-with-cep-dill-vinaigrette/
Besides bell pepper or liver, apricots pair really well with the sweet taste of mushrooms too. For this current appetizer I sautéd some fresh ceps in butter until lightly browned. The dish was completed by dill-vinaigrette and some scallion rings. Altogether it is a seasonal and very fresh appetizer for hot summer days.
Apricot and Bell Pepper Terrine with Ceps and Dill-Vinaigrette
Ingredients
4 slices apricot and bell pepper terrine
100 g fresh ceps
1/2 garlic clove
1/2 small shallot
1 tbsp apricot vinegar
3 tbsp mild olive oil
1 sprig fresh dill
1 tbsp pine nut
1-2 tbsp butter
freshly ground black pepper
salt
Instructions
For the vinaigrette
Wash and shake dry the dill. Remove leaves from thick stalks and reserve some nice leaves for decoration. Peel and chop finely the shallot, garlic clove and dill leaves. Put in a small jar, add 3 tbsp mild olive oil, 1 tbsp apricot vinegar, salt and freshly ground black pepper. Cover the jar with its lid and shake well. Let stand for at least half an hour. Shake well again before serving.
For the pine nuts
Roast pine nuts in a clean small pan until golden brown, remove from the pan and reserve.
For the ceps
Clean ceps using a small brush. Wash briefly with cold water, tap dry with paper towels and cut in half. Melt the butter in a moderately hot small pan. When the butter starts to foam add the ceps with their cut side down. Season with salt and pepper. Using a spoon cover the ceps regularly with the foaming butter.
To assemble and serve
Place 1 slice of terrine on a plate and let it warm to room temperature for 10 minutes. Add hot ceps and sprinkle with dill-vinaigrette. Decorate with reserved dill leaves, roasted pine nuts and optionally some chives or scallion rings.
http://mybites.de/2011/08/apricot-bell-pepper-terrine-with-cep-dill-vinaigrette/