Did you like kohlrabi as a child? Me neither. It's strange that with increasing age some ingredients I used to push aside on my plate, I'm now becoming a fan of. This is the case for example with brussel sprouts or kohlrabi (though with pattypan squash I still can't get along). One of the secrets for good kohlrabi is to use only young produce and trim all potential woody parts from its bottom. Even raw it tastes great with its sweet flavor. Beyond cooking you can also grill, roast or sauté kohlrabi, although I recommend to cook them first, otherwise the center will remain raw. Precooked kohlrabi sticks are also great for salad, e.g. with this mustard seed and caper-vinaigrette. Both the seeds and the capers have a nice mustard taste, which pairs really well with the slight sweetness of the kohlrabi.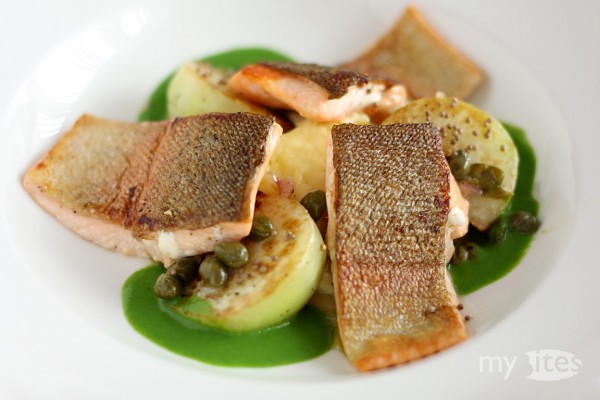 Usually, the trimmings of kohlrabi – like its peel, stalks and leaves – are considered as waste.  I always recommend using the finely chopped peelings and stalks for cooking a kohlrabi stock, which you can sieve and use as a flavorful cooking liquid for the kohlrabi itself. The cooked trimmings along with the leaves can be also utilized as a vibrant green kohlrabi sauce which adds some color to the final dish. Always chill the kohlrabi leaves in ice water immediately after cooking, otherwise they will become unpleasantly brown and grey. The leaves have a slight sour taste, which I took further in the fresh direction by adding some buttermilk. It paired really well with the trout and the roasted kohlrabi.
Rainbow Trout with Kohlrabi and Caper-Vinaigrette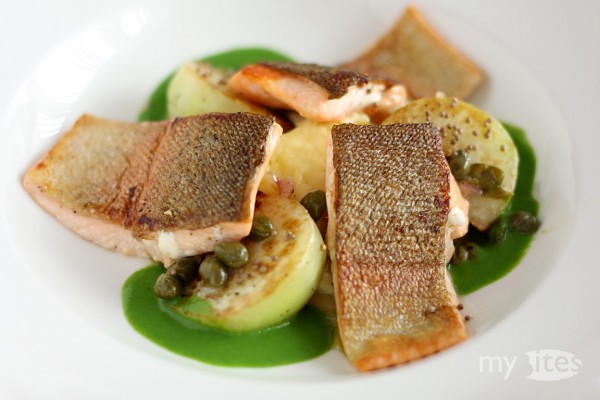 Ingredients
1 large rainbow trout fillet (about 350-400g)
1 kohlrabi with leaves
50 ml buttermilk
4 tsp small capers
half small shallot
1 small garlic clove
3 tbsp smooth olive oil
1 tsp apricot vinegar
1 tbsp mustard seeds
250g potatoes
1 tbsp butter
1 tbsp créme fraiche
50 ml milk
freshly grated nutmeg
freshly ground black pepper
salt
lemon olive oil
olive oil
Instructions
For the kohlrabi sauce
Wash the kohlrabi and its leaves. Trim the stalks and remove them also from the leaves. Peel the kohlrabi and chop the stems with the peel. Cook in boiling salted water until tender, then add the chopped leaves, submerge and cook for 2-3 minutes. Drain and collect the cooking liquid and set aside. Immediately submerge greens in ice water to keep their vivid color. After chilled, drain well, then blend with the buttermilk. Season with salt and pepper. Strain through a fine sieve, cover and keep refrigerated. Before serving allow to get to room temperature.
For the potato puree
Wash, peel and dice the potatoes. Put in a small pan, cover with just enough water, add some salt and cook covered until soft. Drain the cooking liquid and put the potatoes back on the hot stove to remove further water. Add the butter, créme fraiche and milk and mash to a fine puree. Season with salt, freshly grated nutmeg and pepper. Keep warm.
For the vinaigrette
Peel and chop finely the shallot and the garlic clove. Put in a small jar, add 3 tbsp smooth olive oil, apricot vinegar and capers. Cover the jar with its lid and shake well. Let stand for at least half an hour. Shake well again before serving.
In a clean pan lightly roast mustard seeds. Keep an eye an them, because when they turn grey, they get pretty bitter. Remove from the pan and keep at room temperature.
For the rainbow trout
Rinse fillet with cold water, tap dry using paper towels and remove remaining fish bones with a tweezer. Cut fillet in 6 equal portions. Add 1 tbsp lemon olive oil to a moderately hot pan and add the trout with its skin side down. Using a flat kitchen item gently press the fillet pieces to the pan. The skin cooks more evenly this way and the result will be a nice crispy layer. While cooking the fish season lightly with salt and freshly ground black pepper. Let the fish cook through from its skin side, don't turn them around. The trout is done when the upper parts just turn pale.
For the kohlrabi
Cut the peeled kohlrabi in 6 parts and cook in the preserved cooking liquid until tender. Drain and immediately submerge in ice water to stop the cooking process. Drain well on a paper towel.
In a small pan heat 1-2 tbsp olive oil and roast kohlrabi from each side until nicely browned. Season with salt and pepper. After roasting briefly drain on paper towel so the kohlrabi won't form an unpleasant oil film on the plate.
To assemble
Place 3 tbsp potato puree at the center of 2 pre-warmed plates. Lay around 3 roasted kohlrabi slices and 3 fillet parts with their skin side up. Add around each kohlrabi 2 tsp green kohlrabi sauce, sprinkle with 1 tsp caper-vinaigrette and mustard seeds.
http://mybites.de/2011/08/rainbow-trout-kohlrabi-caper-vinaigrette/