Pumpkins and squashes are extremely versatile. In Hungarian language the butternut squash is called "baking squash" (sütőtök), because traditionally it is simply cut in slices and baked in the oven until nicely caramelized. The name is somehow misleading, because pumpkins and squashes can be also cooked, steamed, or even be eaten raw or marinated. By adding sugar or syrup they work really well in cakes or sweets too. Based on this sweet application I created a mini cake inspired by Dominosteine, a praline of German origin.
I created this recipe for a Hungarian food blogger contest which is held this month by a friend of mine living in Budapest. Because Zizi is writing a vegetarian blog, the topic was to create vegetarian dishes with pumpkin or squash as main ingredient.
Dominosteine typically consist of three layers: marzipan, followed by apricot jelly and a gingerbread (Lebkuchen) base. Covered with milk or dark chocolate they are a cheap, but very delicious version of a praline. In this recipe I made the jelly from maple syrup, switched the marzipan to cranberries and the gingerbread to chestnut biscuit. The lemongrass and ginger flavored candied pumpkin hull was an additional fourth layer added to the traditional three layers of Dominosteine.
As a last step I covered the pumpkin candy with dark chocolate which also solidified the pumpkin. Along with this chocolate coating it resembled the Dominostein really well (although I made round versions instead of cubes due to limitations of my cookie cutter collection). It tastes great with the chocolate, but the flavors are much more delicate without the coating. Some mini cakes I gave as a small present to a colleague of mine who held his birthday party on Saturday. Everyone preferred the chocolate version. So at the end I leave it up to you whether you add the chocolate coating or not. But I would recommend to halve the cakes before serving them. The pumpkin layer is still solid in the final dessert, so you cannot get through it easily with a fork – the whole cake will just collapse due to the soft components inside. When the cake is halved, you can easily slice it with a fork from the side.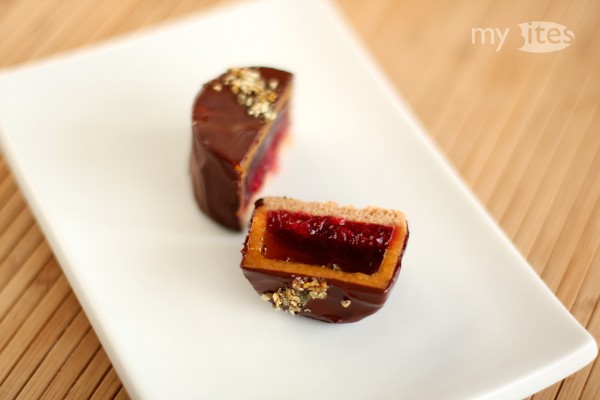 [amd-zlrecipe-recipe:17]