Recently vegetables are becoming more and more popular as dessert ingredients. I don't think it's so unusual to use vegetables in desserts, because a lot of them are already pretty sweet on their own. Carrots, pumpkins or zucchinis became quite common as cake ingredients recently. Fennel for example can be applied in desserts too. The anise flavor has already been used for several hundred years as a spice for sweets. Combined with white wine, fennel makes a very nice sorbet, which can be paired perfectly with almond and peach, e.g. like with this delicious tart.
I'm not so much a fan of sweets or desserts in general. I also rather prefer fruity or even slightly salty, more interesting desserts instead of sweet or chocolate treats. One of my favorite desserts I explored some years ago was the pairing of a thick almond toffee with fresh peach and fennel. Almond toffee is a combination of two of my favorite sweets: I love the taste of caramelized cream and also of well roasted, slightly bitter almonds. So I combined them to a flavorful spread which serves as a base for the peach layer.
Peeled almonds are a lot more convenient, though I prefer to peel them just before their usage because the skin preserves more aroma and flavor. Peeling almonds is as simple as removing the skin from tomatoes. No, really, it's simpler. And more fun – as long as you don't have to peel several pounds. After blanching and chilling the almonds you can easily snap off the skins. Before roasting, the almonds should be drained on paper towels, so the water doesn't need to evaporate first and the roasting can start almost immediately. Some recipes advise to roast almonds (or nuts in general) in a dry pan. I prefer to roast almonds (or pine nuts, hazelnuts, etc.) in the oven on a grid covered with parchment paper, because it results in a much more even roasting. Using a grid instead of a baking tin the almonds don't get too much heat from below and thus don't get burnt spots. This way I can also roast it even darker to a deeper shade of brown, which develops slightly bitter and chocolate-like flavors.
The dough is a simple shortcrust adapted from Delphine de Montalier's Tarte & Quiche cookbook. It's intentionally salty, because it complements the almond toffee along with the peach and the lime-butter wash. If you don't own an ice cream maker or simply want to serve the tart on its own: it works also great with a cup of coffee on a lazy sunday afternoon.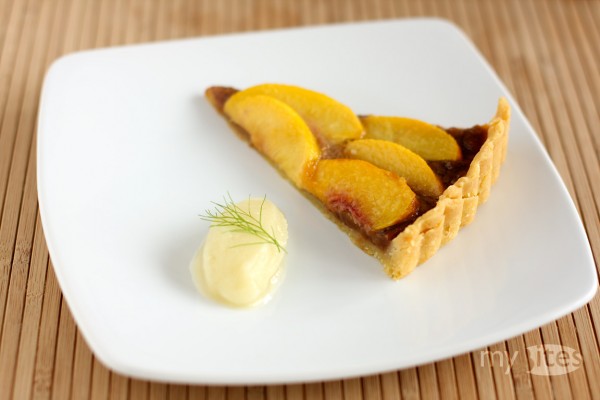 [amd-zlrecipe-recipe:13]