Recently vegetables are becoming more and more popular as dessert ingredients. I don't think it's so unusual to use vegetables in desserts, because a lot of them are already pretty sweet on their own. Carrots, pumpkins or zucchinis became quite common as cake ingredients recently. Fennel for example can be applied in desserts too. The anise flavor has already been used for several hundred years as a spice for sweets. Combined with white wine, fennel makes a very nice sorbet, which can be paired perfectly with almond and peach, e.g. like with this delicious tart.
I'm not so much a fan of sweets or desserts in general. I also rather prefer fruity or even slightly salty, more interesting desserts instead of sweet or chocolate treats. One of my favorite desserts I explored some years ago was the pairing of a thick almond toffee with fresh peach and fennel. Almond toffee is a combination of two of my favorite sweets: I love the taste of caramelized cream and also of well roasted, slightly bitter almonds. So I combined them to a flavorful spread which serves as a base for the peach layer.
Peeled almonds are a lot more convenient, though I prefer to peel them just before their usage because the skin preserves more aroma and flavor. Peeling almonds is as simple as removing the skin from tomatoes. No, really, it's simpler. And more fun – as long as you don't have to peel several pounds. After blanching and chilling the almonds you can easily snap off the skins. Before roasting, the almonds should be drained on paper towels, so the water doesn't need to evaporate first and the roasting can start almost immediately. Some recipes advise to roast almonds (or nuts in general) in a dry pan. I prefer to roast almonds (or pine nuts, hazelnuts, etc.) in the oven on a grid covered with parchment paper, because it results in a much more even roasting. Using a grid instead of a baking tin the almonds don't get too much heat from below and thus don't get burnt spots. This way I can also roast it even darker to a deeper shade of brown, which develops slightly bitter and chocolate-like flavors.
The dough is a simple shortcrust adapted from Delphine de Montalier's Tarte & Quiche cookbook. It's intentionally salty, because it complements the almond toffee along with the peach and the lime-butter wash. If you don't own an ice cream maker or simply want to serve the tart on its own: it works also great with a cup of coffee on a lazy sunday afternoon.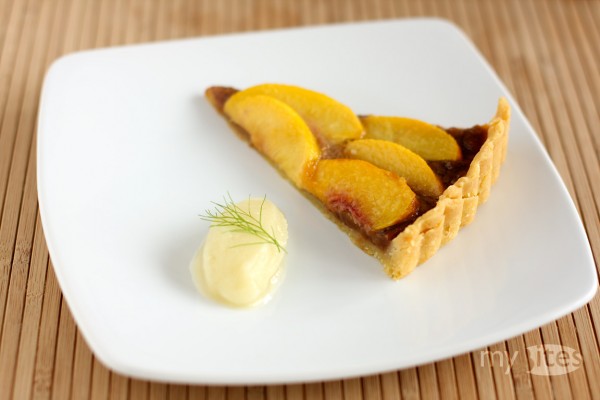 Peach and Almond Toffee Tart with Fennel Sorbet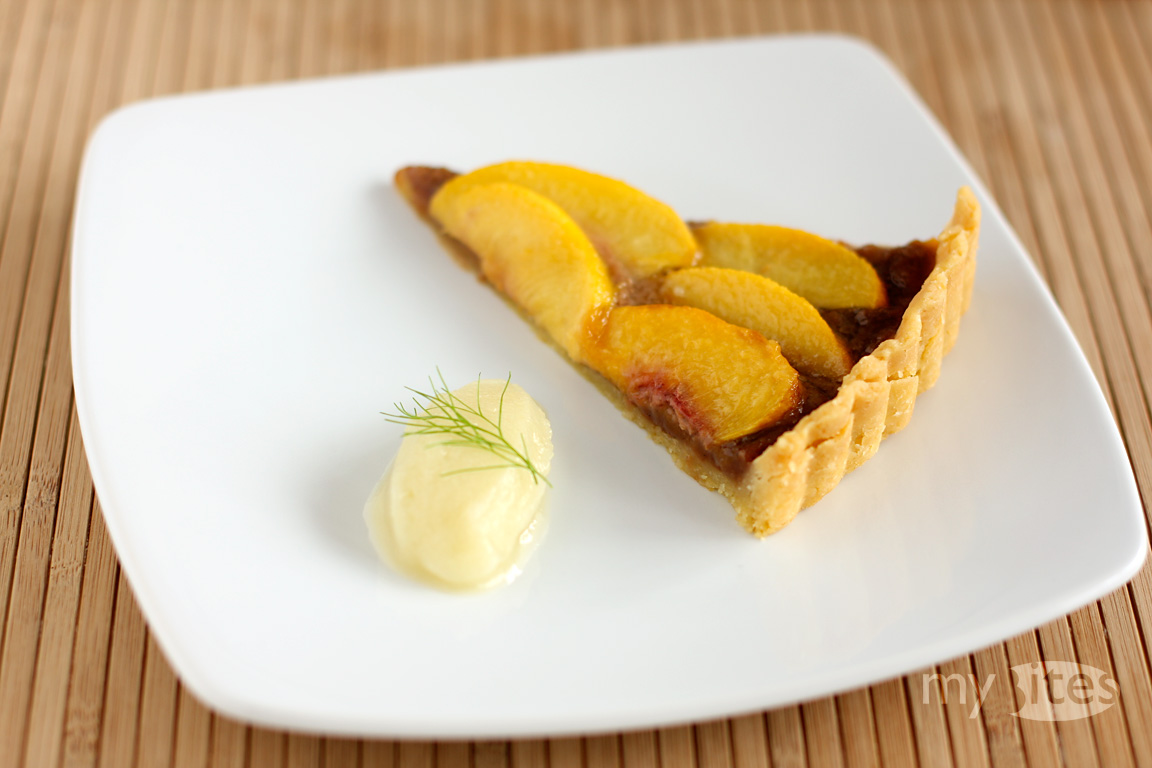 Ingredients
250 g flour
125 g butter
1/2 tsp salt
1 egg yolk
100 g almonds
220 ml whipping cream
100 g sugar
1 tsp butter
1 tsp vanilla extract (or 1 package vanilla sugar)
1 pinch salt
2.5 tsp butter
1/2 lime
3 peaches
dried legumes (e.g. lentils, beans)
flour (for dusting the working surface)
220 ml white wine, dry
1 fennel (huge, about 1 pound)
4 tbsp sugar
30 ml Pernod (French anise liqueur)
lime juice to taste
Instructions
For the dough
Dice 125g / 4.4 oz cold butter and let it warm to room temperature. Sift 250g / 8.8 oz flour on a working surface, push a mold in the middle and add the butter, egg yolk and 1/2 tsp salt. Quickly incorporate the ingredients meanwhile sprinkling the dough with 2 tbsp cold water. Collect the crumbles to a ball, wrap in clingfilm and refrigerate overnight.
For the almond toffee
Combine 220 ml / 1 cup cream, 100 g / 1/2 cup sugar, 1 tsp butter, 1 tsp vanilla extract and a pinch salt in a pan. Heat gently and let simmer stirring very often until the color changes to orange brown. This might take a while, so meanwhile blanch 100g / 3.5 oz almonds, drain the cooking liquid and rinse almonds with cold water. Snap off the skin of the almonds and drain the almonds on paper towel. Line a grid with parchment paper, add the peeled almonds and roast in 200°C / 390F hot oven until golden brown. Stir sometimes for a more even roasting. When nicely browned, remove from oven and chill to room temperature. Grind in a blender or coffee mill. When the toffee in the pan reached a nice orange brown color, remove from the heat and stir in the roasted almond powder. Refrigerate until needed. Before spreading on the cake, warm it up a little.
For the tart
Wash and peel the peaches, quarter and remove the stones. Slice each quarter thinly. Melt 1 tsp butter and add juice of 1/2 lime. Preheat the oven to 180°C / 355F. Grease a 28cm / 11 inch tart form with 1.5 tsp butter. Lightly dust working surface and rolling pin with flour and roll out the dough thinly. Line the form with the dough and prick with a fork. Cover with baking parchment and fill up with dried legumes (e.g. lentils, beans). Bake on a grid for 15 minutes, then remove the lentils and baking parchment and bake for further 5 minutes. Remove the cake base from the oven and spread evenly the almond toffee on it. Cover with peach slices and gently brush with the lime butter. Bake for further 30 minutes, then remove from the oven and let chill to room temperature.
For the fennel sorbet
Wash fennel, reserve leaves in cold wet paper towel and discard green and brown parts. Finely dice the fennel. Bring 220 ml / 1 cup dry white wine to a boil, add 4 tbsp sugar and the fennel cubes, cover with a lid and cook for 1 hour until very tender. Chill to room temperature, add 30 ml / 1fl oz pernod and blend to a fine puree. Strain through a fine sieve and adjust with lime juice to taste. The sorbet should be refreshing and slightly sour to contrast the sweet almond toffee. Refrigerate and prepare in your ice cream maker. If you don't own one, freeze sorbet base and blend every half an hour.
To assemble and serve
Cut slices from the tarte and place on a plate. Add 1 scoop fennel sorbet and decorate with reserved fennel leaves.
http://mybites.de/2011/10/peach-almond-toffee-tart-fennel-sorbet/