In autumn plums appear at the markets in various sizes, colors and shapes. For example the round ones are pretty close to nectarines, with the only visual difference that their skins are blue or pale yellow. The oval damsons are the most common here in Franconia, in most cases this is the plum you will find at all markets. And sometimes, if you're lucky, you might even spot some tiny greengages. Removing their seeds makes the most work among these three plums, but greengages also have a very nice wild, more natural taste. For this dessert I combined these three plum subspecies, all with interesting added flavorings.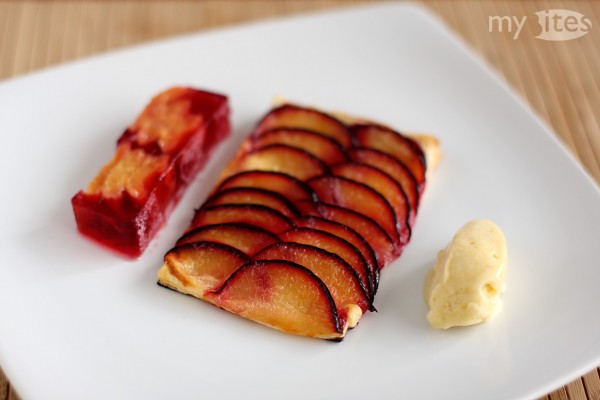 I admit, the amount of terrines was quite high in the last few month, so this might be the last one for this year. My idea was to have two separate colors which should clearly be distinguishable when the terrine is sliced. Because all red and blue color is kept in the skins of the damsons, I peeled them and soaked the skins along with ginger and lemongrass in a simple syrup. This became the red gelatine which surrounded the yellow peeled damsons. To this room temperature terrine I included a hot and a cold element. From the greengages I made a simple sorbet tweaked by some fresh coriander seeds. For the hot element I baked a simple tart with a puff pastry base, spread with marzipan and covered with a layer of thinly sliced plum. Marzipan and plum really works great together, as does fresh coriander with greengages, or ginger and lemongrass with damsons. The final result turned out just as I planned with a lot of pleasant contrasts: hot and cold, creamy and crispy, sweet and sour, dense and refreshingly light.
Damson Terrine with Marzipan-Plum Tart and Greengage Sorbet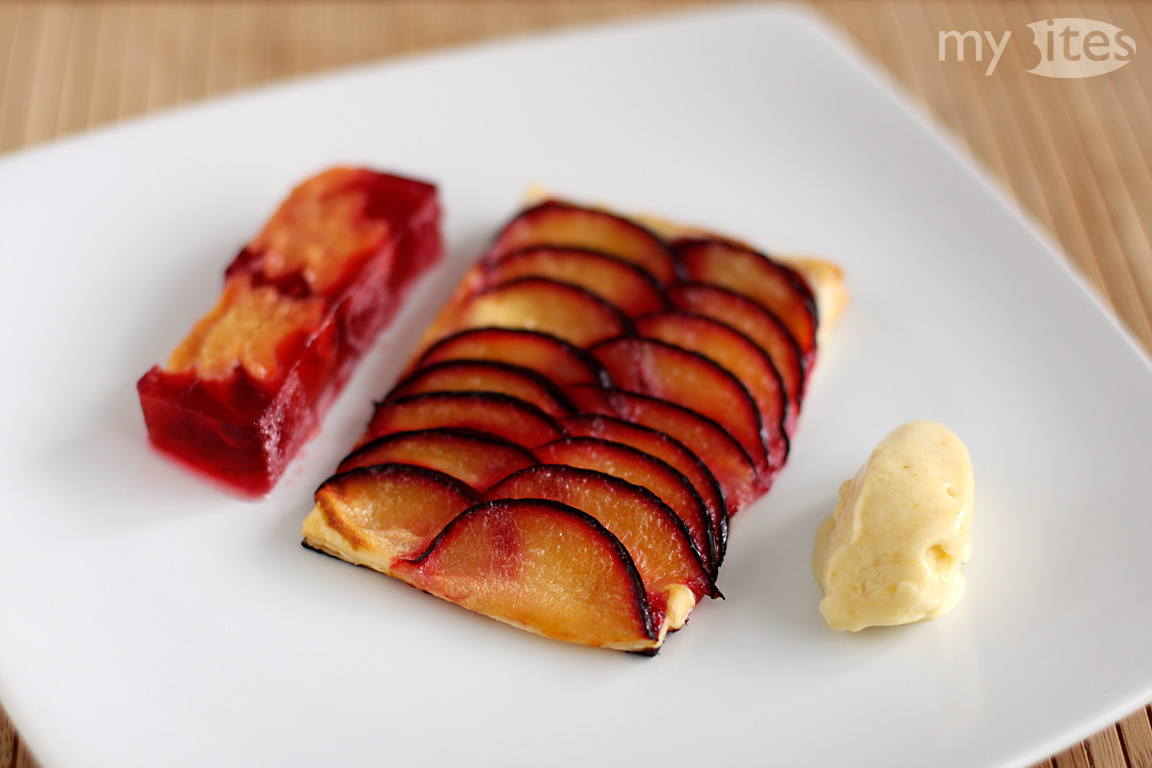 Ingredients
21 blue plums (damsons)
2 round plums
250 g greengages
1 tsp coriander seeds
2 lemongrass
3 cm piece fresh ginger
10 sheets gelatine
1 lemon
50 ml whipping cream
50 g marzipan
half package puff pastry
1 tsp butter
sugar
Instructions
For the terrine
Heat 350 ml water and dissolve 200 g sugar in it. Finely chop the lemongrass and the unpeeled ginger and add to the syrup. Cover with a lid and simmer for 1 hour. Strain the syrup, season with some lemon juice and set aside.
Wash the damsons. If they can be peeled easily, then peel them right away. Otherwise blanch for 10-15 seconds in boiling water, immediately submerge in ice water and remove the skins. Work fast and only in batches of 3-4 damsons, because with some heat the skins immediately start to release their color into the yellow flesh. Put the skins in the warm syrup so it can get a nice red color, then strain. Halve the peeled damsons and remove their seeds. Line a baking sheet with parchment paper and put the halved damsons on it with their cut side down. Bake for 8-10 minutes in a 150°C / 300 F hot oven. Remove the baking sheet from the oven and chill to room temperature.
Line a terrine form with plastic wrap. Soak the gelatine sheets in cold water for 5 minutes, press out the water and melt in the strained warm red syrup. Chill the syrup to room temperature. Add some syrup to the terrine form and add a layer with 14 damson halves. Cover with syrup and add another layer of damsons. Repeat for a third layer and cover with the remaining syrup. Carefully place in the refrigerator and leave it there for 3-4 hours until the gelatine becomes firm.
For the sorbet
Wash the greengages and discard the seeds. Put in a small pan, add 50 ml water and 1 tbsp sugar. Cover and simmer at low temperature until the fruit gets really soft. Chill to room temperature, add the whole coriander seeds and puree using a blender. Season with lemon juice and sugar to taste and let stand for 10 minutes to infuse with the coriander flavor. Strain through a fine sieve to remove the coriander pieces. Cover and chill thoroughly in the refrigerator.
Before serving, freeze in an ice cream maker.
For the tarts
Gently warm the marzipan with 50 ml whipping cream and whisk them together. In a separate pan melt 1 tsp butter, add 1 tsp sugar and some lemon juice. Cut the puff pastry in 4 rectangles, approx. 6x11 cm each. Prick the dough with a fork and spread the marzipan evenly on them. Wash the round plums, discard the seeds and cut the flesh in thin slices. Cover the tarts neatly with a layer of plum slices and brush with the melted butter mixture. Bake for 20 minutes at 200°C / 390 F on a baking sheet covered with parchment paper.
To assemble and serve
15 minutes before serving cut 1-1,5 cm thick slices from the plum terrine. Put the slices on plates and leave them at room temperature. When the tarts are ready, place one on each plate and add a scoop of greengage sorbet.
http://mybites.de/2011/10/plum-variations/