I wondered why red or white wine is usually added to reduced sauces. Usually the wine is allowed to cook off completely, so in most cases – as long as you're not cooking specifically a red wine sauce – wine is not so much added for its taste than rather for its acidic component. Another function of the wine is to scrape off the brown roasted parts from the bottom of the pot, but for this purpose water works perfectly well too. Instead of the wine I had the idea to add some quince as an acidic component. Cooking quince over a long time magically enhances its flavor, so I thought it would work ideally in a sauce too, since the the basic stock had to be cooked for several hours. The quince worked really well in the sauce, so if you have any problems with adding alcohol to a sauce – although the alcohol will cook off completely – during autumn you can add some fresh quince instead.
Because I planned to serve the quince sauce with pigeon breasts and at my local market they serve only whole pigeons, I roasted the legs, wings, back, neck and other bones and used them in the sauce. It gave the sauce a deeper flavor which enhanced the quick roasted pink pigeon breasts.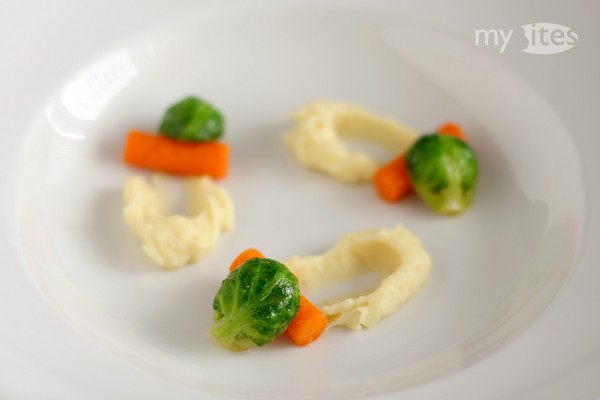 Because the pigeon breast is not a huge piece of meat, I planned rather small garnishes. Fall vegetables are so bright and colorful. These three, namely parsnip, Brussels sprouts and squash you can get during the whole winter too, so they might just be the right choice if you want to brighten up a dark day. Fall and winter vegetables tend to be more strong and earthy, but they also work better with rich, roasted sauces. This combination of creamy parsnip puree, soft squash and snappy Brussels sprouts was the optimal accompaniment for the quince sauce and pigeon breast.
Pigeon Breast with Quince Sauce and Autumn Vegetables
Ingredients
1 pigeon
1 onion
1 carrot
1 parsley root
50 g celery root
1 tomato
2 cloves garlic
1 sprig rosemary
3-4 sprigs thyme
1 bay leaf
1/4 quince
100 g parsnip
100 ml milk
1 piece orange zest
1 piece lemon zest
3 Brussels sprouts
100 g butternut squash
1 tbsp + 1 tso butter
freshly ground nutmeg
freshly ground black pepper
salt
olive oil
Instructions
For the pigeon
Wash the pigeon with cold water on its in and outside and tap dry with kitchen paper. Using a sharp knife cut out the two breasts leaving as much skin on and around it as possible. Cover with clingfilm and refrigerate. Remove the offal parts like liver or heart and use for another purpose. Cut the remainder (legs, wings, neck, back and other bones) in parts.
For the sauce
In a large pot brown the diced carrot, parsley root, celery root and onion on some olive oil in batches (always add only a single layer of vegetable to the pot so it browns and doesn't cook then set aside and continue with the next portion of vegetables). Brown the pigeon parts (except the breasts and offal parts) on some olive oil. Finely dice the tomato and roast in the pot until brown and caramelized. Add some water and scrape of the brown parts from the bottom of the pot. Add the roasted vegetables, 1 sprig rosemary, 3-4 sprigs thyme, 1 torn fresh bay leaf, 1/4 diced quince with its skin and seeds, 1/2 tbsp whole black peppercorns, 2 garlic cloves and a pinch of salt. Add water to cover all ingredients and let simmer covered at low heat for 5-6 hours. Strain the liquid, remove the fat and reduce the liquid until it starts to get syrupy. Season with salt and keep warm. If it might get too syrupy, add some water.
For the garnish
Wash the Brussels sprouts and remove the outer unpleasant looking hard leaves. Using an apple core remover cut out neat cylinders from the butternut squash block. Use the rest for another purpose (e.g. soup, puree). Blanch the Brussels sprouts for 2,5 minutes, the butternut cylinders for 1 minute in boiling salted water, then immediately chill in ice water, drain on kitchen paper and refrigerate until serving.
For the parsnip puree
Wash and peel the parsnip and cut into small dices. Add to a small pot with 1 piece of lemon and orange zest. Cover with milk and season with a pinch of salt. Cook over low heat until very tender. Strain the cooking liquid and reserve. Remove the orange and lemon zest and blend the parsnip into a fine puree. While blending, add 1 tbsp butter, a pinch of freshly grated nutmeg and as much reserved cooking liquid to get a creamy puree. Press the puree through a fine sieve to get an even more smooth texture. Season with salt and keep warm.
For the pigeon breast
Wash the pigeon breasts with cold water and tap dry with kitchen paper. In a small hot pan on a few drops of olive oil roast the breasts for 2-3 minutes on their skin and 30 seconds on their other side. While roasting season with freshly ground black pepper and salt. With the skins looking upwards place the pan with the breasts for 6-10 minutes in a 80°C / 175 F hot oven.
Finishing the garnish
In a seperate pan melt 1 tbsp butter. Cut the Brussels sprouts in half and add to the pan with their cut side down. After 2-3 minutes, add the squash cylinders and season with salt and pepper. Gently toss the pan so that all vegetables are covered by some butter.
To serve
Add 3 small spoonfuls of parsnip puree on a warm plate, place a squash cylinder and a half Brussels sprout on its end and add one pigeon breast in the middle of the plate. Generously cover the breast with sauce and serve.
http://mybites.de/2011/11/pigeon-breast-quince-sauce-autumn-vegetables/