I wondered why red or white wine is usually added to reduced sauces. Usually the wine is allowed to cook off completely, so in most cases – as long as you're not cooking specifically a red wine sauce – wine is not so much added for its taste than rather for its acidic component. Another function of the wine is to scrape off the brown roasted parts from the bottom of the pot, but for this purpose water works perfectly well too. Instead of the wine I had the idea to add some quince as an acidic component. Cooking quince over a long time magically enhances its flavor, so I thought it would work ideally in a sauce too, since the the basic stock had to be cooked for several hours. The quince worked really well in the sauce, so if you have any problems with adding alcohol to a sauce – although the alcohol will cook off completely – during autumn you can add some fresh quince instead.
Because I planned to serve the quince sauce with pigeon breasts and at my local market they serve only whole pigeons, I roasted the legs, wings, back, neck and other bones and used them in the sauce. It gave the sauce a deeper flavor which enhanced the quick roasted pink pigeon breasts.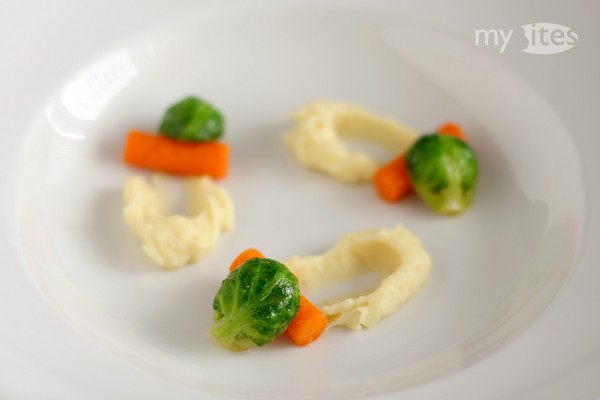 Because the pigeon breast is not a huge piece of meat, I planned rather small garnishes. Fall vegetables are so bright and colorful. These three, namely parsnip, Brussels sprouts and squash you can get during the whole winter too, so they might just be the right choice if you want to brighten up a dark day. Fall and winter vegetables tend to be more strong and earthy, but they also work better with rich, roasted sauces. This combination of creamy parsnip puree, soft squash and snappy Brussels sprouts was the optimal accompaniment for the quince sauce and pigeon breast.
[amd-zlrecipe-recipe:19]