Next to blackberries, quince is my most favorite fruit. Although it resembles a pear or an apple, it is far too hard and sour to be eaten raw. However, if you cook quince almost indefinitely it not only turns to a lovely pink or red color, but also develops an irresistibly rich flavor. Unfortunately, the season for quince is quite short during autumn, but you can keep the jam, puree or quince jelly for several months. It pairs great with cheese, however, this time I used the quince puree in a dessert paired with another typical autumn and winter ingredient: sweet potato.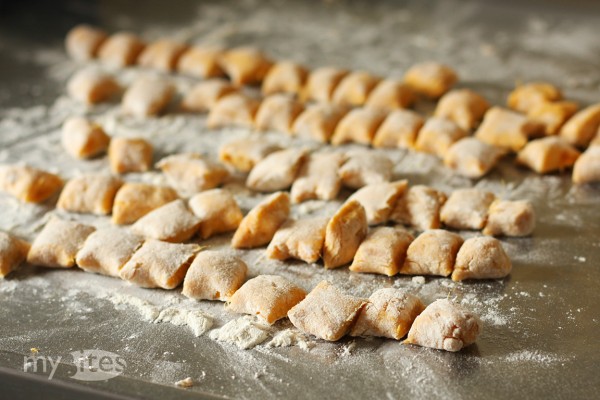 I developed this recipe for vegetable puree based gnocchi last year using parsnips. It works with any kind of vegetable puree – so if you don't have any sweet potato at hand, you can substitute it by pumpkin or butternut squash in the recipe below – as long as the puree is dry enough. A wet puree needs more flour, which makes the gnocchi heavy and thick instead of light and fluffy. Another secret for the fluffiness is to work with a slightly sticky dough and rather add a little bit more flour on the working surface while rolling the dough out to long strands. This way the flour helps forming the gnocchi, but doesn't get incorporated into the dough.
After cooking the gnocchi I shortly roasted them in vanilla butter which gave the gnocchi a nice crust and enhanced its flavor. I've been inspired for this gnocchi roasting technique by desserts I tasted at MÁK Bistro in Budapest (which is by the way the restaurant of this year in Hungary according to the Hungarian restaurant guide). At MÁK Bistro the roasted gnocchi are usually served with a quenelle of ice cream, so I prepared a spicy cinnamon ice cream inspired by a recipe of David Lebovitz. I also added some lemon and orange zest to the ice cream base, which resulted in a more fresh and even more spicy result. As fruity components I decorated the gnocchi with orange fillets and the aforementioned quince puree. The final touch was a caramel sauce made with rooibos tea, which paired incredibly well both with the sweet potato gnocchi and with the cinnamon ice cream.
[amd-zlrecipe-recipe:20]