Thinking about vegan desserts it was surprising to me how much our usual desserts rely on animal products. Many – if not most – recipes contain either eggs, gelatin, butter, milk, cream or honey. Sometimes not even fruit sorbets are pure because adding some egg white or mascarpone makes their texture less crystalline. On the other hand, many animal products can be substituted: Instead of milk or cream you can create nutritious milk from rice or nuts. In many cases, butter can be substituted by flavorful vegetable oils. Honey too can be replaced by various natural sweeteners such as sugar beet molasses, agave or rice syrup. I believe that all these great plant-based products should not be treated as substitutions only, but rather as full-valued products. If we would stop thinking of them as substitutions and rather see them as full-valued ingredients, many new and creative desserts could be created.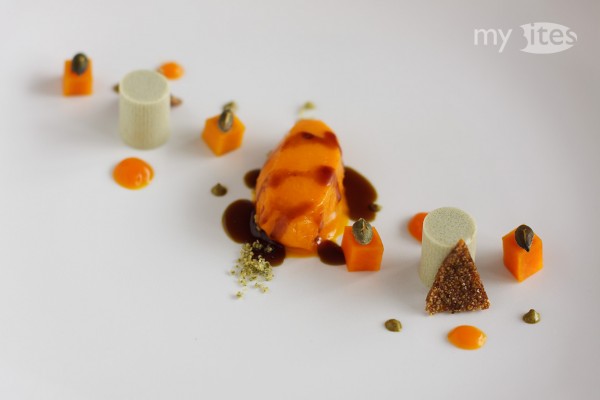 I created this dessert as the final course for a Hungarian food blogger contest organized by a friend. I used only one single ingredient, because butternut squash is extremely versatile – and can be used even in a sweet dessert. I marinated one part of the squash in an Asian flavored syrup with lemongrass, kumquat and fresh ginger. Instead of sugar I used rice syrup, which further enhanced the Asian effect. From another part of the squash I cooked a smooth puree and sweetened it with maple syrup. I baked the remaining squash with cinnamon, pureed it and served it as a refreshing sorbet.
Pumpkin seeds are very versatile too. I used some pumpkin seed oil as sauce on the sorbet and a pumpkin seed paste which I like to call "nougat" because it totally reminds me of it. I roasted some of the pumpkin seeds until they puffed. From the rest I prepared pumpkin seed milk, which I jellied using agar-agar. I dried the remaining pumpkin seed solids and used it both as a powder and also as a caramel brittle. This is also a great way to use the residual almond pulp after preparing fresh almond milk. Though, it is important to thoroughly dry the powder, otherwise the brittle will not harden.
Butternut Squash with Pumpkin Seeds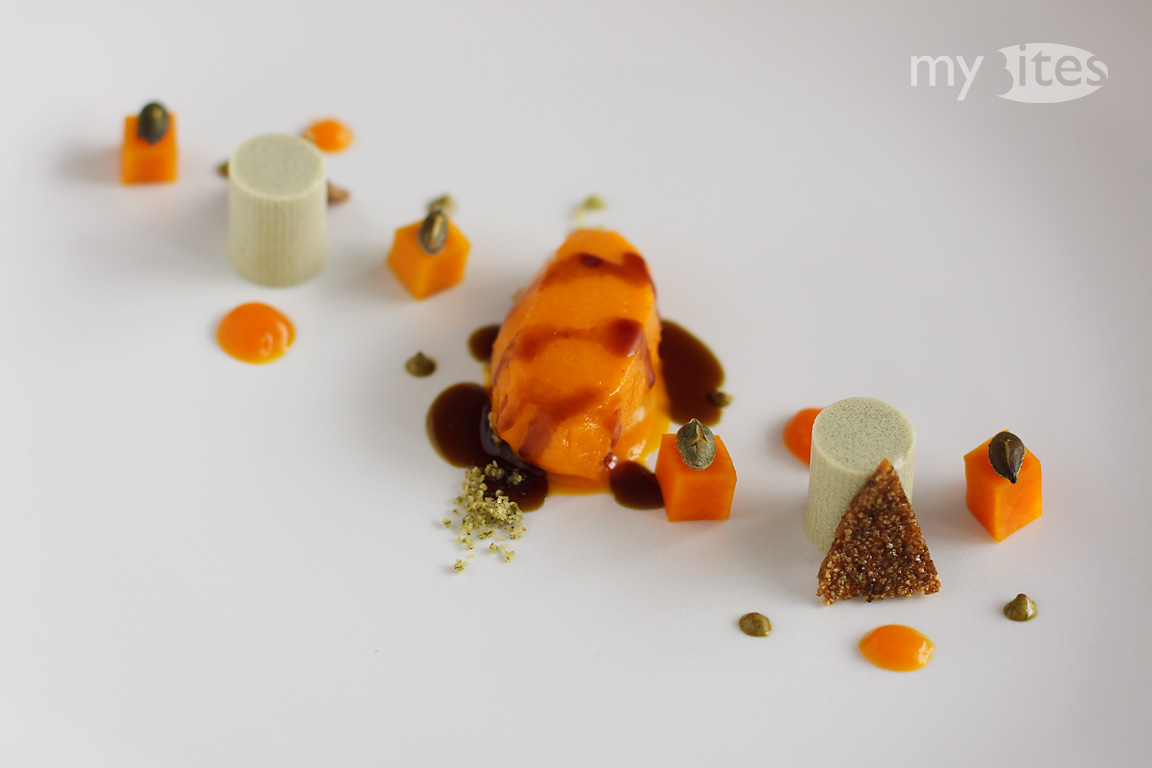 Ingredients
1/2 butternut squash (about 600 g)
80 g pumpkin seeds
1 tsp agar-agar
2 tbsp sugar
2 pieces orange zest
2 pieces lemon zest
1 cinnamon stick
1 cm piece fresh ginger
1 kumquat
1 lemongrass
few drops white wine vinegar
1-2 tbsp maple syrup
rice syrup
1 tsp pumpkin seed paste
pumpkin seed oil
neutral oil (e.g. sunflower, grapeseed)
Instructions
For the pumpkin seed milk
Put 70g pumpkin seeds in a plastic box, add 200ml cold water, cover and refrigerate overnight. On the next day, drain the water, add 200ml fresh water and blend well. Drip the milk through a fine sieve lined with cheesecloth. Gently press out the liquid from the pumpkin seeds. Measure 200ml from the liquid, season with salt and rice syrup and mix with 1 tsp agar-agar. Bring to a boil, chill shortly and transfer to a plastic cup. Refrigerate until solid. Using an apple core remover cut cylinders from the jelly and cut them in half.
For the pumpkin powder and brittle
Spread the leftover pumpkin solids from the pumpkin milk on a baking tray and dry in the oven at 120°C / 250 F. Make sure that the powder is really dry, otherwise your brittle will not harden. Cook a caramel from 2 tbsp sugar until deep brown, remove from the heat and add 2 tbsp pumpkin seed powder. Mix well and spread on baking paper. Cover with another layer of parchment and using a rolling pin roll out the brittle as thin as possible. Work fast, because the caramel hardens rapidly while it cools down. After the brittle hardened, remove the paper and brake the brittle into pieces. You might also perforate the brittle with a knife while it is still warm.
For the butternut squash stock
Peel the butternut squash and remove the seeds. Add the skins and seeds to a pot, cover with water and cook at moderate heat for 1 hour. Drain, reserve the liquid and discard the solids.
For the butternut squash puree
Dice 100g butternut squash, cover with squash stock and add 1 piece of lemon and orange zest. Cover and cook until soft. Discard the zests, drain the liquid and reserve. Blend the squash into a fine puree and add 1-2 tbsp maple syrup. Add as much cooking liquid to get a smooth puree. Season with a few drops of vinegar and press through a fine sieve. Cover and refrigerate.
For the butternut squash sorbet
Dice 250g butternut squash and toss with 1 tbsp neutral oil, a crushed cinnamon stick and 1 lemon and orange zest. Transfer to a baking dish and bake in the oven at 200°C / 390 F until soft (about 40 minutes). Remove the cinnamon and zests. Blend the baked squash with 250ml butternut squash stock into a smooth puree. Press through a fine sieve to remove any solids. Season with rice syrup. Refrigerate and before serving prepare in your ice cream maker according to the manufacturer's instructions.
For the marinated butternut squash
Wash and finely chop the lemongrass, kumquat and ginger. Add to a small pot, cover with 150ml water and add about 50g rice syrup. Cover and cook over low heat for 1 hour. Strain the liquid and reserve. Discard the solids. Dice 50g butternut squash into 6-8mm cubes. Add to the hot syrup and cook gently over low heat for 10 minutes. Remove from the heat and cool the squash in the syrup to room temperature.
To serve
Mix 1 tsp pumpkin seed paste with some water to make it more creamy. Roast the remaining pumpkin seeds in a dry pan until they pop and puff.
Put two halved pumpkin milk jellies at the ends of a plate. Add 2-2 marinated squash cubes, 2-2 drops of maple-squash puree and 3-3 drops of pumpkin seed paste. Decorate each squash cube with a puffed pumpkin seed and lean a piece of pumpkin seed brittle against the jellies. Sprinkle some pumpkin powder at the center of the plate and add a scoop of butternut squash sorbet on it. Sprinkle with some pumpkin seed oil.
http://mybites.de/2011/12/butternut-squash-with-pumpkin-seeds/